While TradeLog is geared mainly towards the tax needs of U.S. filers, we also have a number of users from other countries who are able to use the TradeLog Gains & Losses Report for their tax needs or for trade tracking and analysis.

For all our "non-U.S." customers, note the following:

- The only broker supported for base currency other than US Dollar ($) is Interactive Brokers.

- The brokers we support with a direct import method (see: http://www.tradelogsoftware.com/support/broker-imports/) are U.S. based. We cannot tell you with certainty that an import from a broker on this list, but based outside of the U.S., will work.

- Your computer's regional and short date settings should ideally be English (United States) and MM/dd/yyyy - see: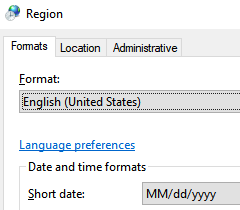 - Your computer's decimal symbol settings must be set to a period - see:


- Ultimately, any data not directly importable from the broker can be imported via our Excel Text Import filter, which requires some reformatting. However, the base currency will be US Dollar ($):

My broker is not supported - can I import?