TradeLog 20 introduces some exciting changes and new functionality!
We've been working on a major update to TradeLog for several years now. We've compiled a list of the significant changes to help you get oriented and know what to expect.
Or, check out our video:
Redesigned User Interface
This is the most noticeable change. The appearance and user interface of TradeLog has changed little over the years. And while consistency can be good, it was time for a change and more modern look! Our goal was to make the best use of screen space, provide easier access to functions, and a logical workflow. Here are some significant parts...
New Menu Structure

The Edit, Add, Options, and View menus are gone! Those functions have been relocated within the new menus shown above.
The new menu structure is designed to coincide with the general workflow: Starting with creating your File, you next set up Account(s) and import data. Then you may work with individual Records and any needed Adjustments. The Find menu allows you to filter your data more easily. And of course the Reports you need are easier than ever to access.
The new User menu contains user-specific functions and settings. Getting the Help you need is always accessible.
Toolbar Ribbons and Icons
Similar to what you are now used to in the most popular productivity suites, TradeLog now uses toolbar ribbons for each menu, with new icons for most functions
Here is what you'll see:


The Account menu is where you'll find the Import buttons. You no longer need to change your settings to use an alternate import method (if available). And you can always import from Excel (more about that below)

Records is where you find most functions for adding/editing records

Adjustments contains various functions used for necessary tax adjustments as well as more advanced adjustments that might be needed for trade matching

Powerful filters are just a click away, and the Find Type group allows you to quickly find the trades you are looking for

We're excited about the updated Reports menu because you can more easily toggle between various reports

The new User menu is where you go to customize your user experience and user-specific settings. We'll tell you more about Visual Themes and Trade Type Settings below

Getting you the Help you need is very important to us. See that life ring icon? That's the icon for Get Support - the easiest way to submit a support request for best results. You'll see that icon on the Summary Bar also. More support functions will be added in future releases!

Are you the "keyboard shortcut junkie" type? Navigating TradeLog menus and toolbar ribbons is easy. Just click the Alt key to see visual cues, then hit the letter for the menu/function you want. Here is what it looks like:


Updated Summary Bar
We combined the old toolbar and summary bar to give you more room on your screen, and a pop of purple:

You still have the three quick view buttons for All Trades, Open, and Closed

We added quick buttons for functions you always need access too:

 Year End Checklist
 Get Support
Undo / Redo (PS we updated the keyboard shortcuts for these functions also. Ctrl+Z and Ctrl+Y will quickly Undo or Redo respectively)
Visual Themes

TradeLog's new Visual Themes setting, found in the User menu, allows you to change your color scheme. From the default Silver...

to Blue...

to Black...

or a High Contrast option...

We hope this feature especially helps those users with visual impairments.
Display Settings
TradeLog's Display settings, found in the User menu, allow you to easily enable and disable showing Wash Sales in the grid. The enabled state is indicated with a highlight as shown below:

If disabled, it appears as gray.
Other New and Updated Functionality
Beyond the appearances, we've updated some functions and added some powerful new abilities...
Global Options is now Trade Type Settings

The Global Options function set has been renamed to Trade Type Settings and can be found in the User menu. Most functionality has remained the same, but we want to make sure you know where to find those user-customizable settings for index options, ETFs and more.
Tax Adjustment Codes

Selecting a trade record(s) you can now add a Tax Adjustment Code. Go to the Adjustments menu and select Adj Code to open the dialog box for selections.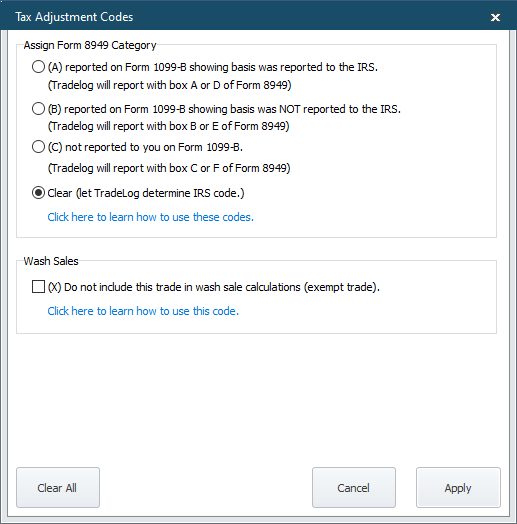 This is where you can now assign a trade to a Form 8949 category (replacing our previous Change 8949 Code function).


And new for TradeLog 20: you can mark an open trade to exempt it from triggering a wash sale. Make sure you understand how this works and when it might be used - click here to learn more


We have more to come in future updates which will provide additional adjustment codes
Wash Sale Settings
This is pretty huge... for over 22 years TradeLog has used fixed algorithms for generating wash sale adjustments with only one option to toggle whether or not to adjust wash sales between shorts and longs. While there are some "tricks" to get around those algorithms for certain unique situations, for the most part those settings have not been customizable. But that now changes.
We've listened to traders, CPAs, and others and beginning with version 20, TradeLog allows a user to adjust more of the Wash Sale Settings based on their particular situation.

It's important that we pause to remind you: TradeLog is not responsible for your decisions in this regard. You, as a taxpayer, are accountable for your tax reporting. TradeLog is simply a tool to help you generate the reporting you need. We do not provide tax, financial, or other legal advice.
Now that we have that out of the way, here is what you can do in TradeLog 20:
Go to the File menu and choose Wash Sale Settings to access the user-specific settings. Note: these settings will apply to the TradeLog file that is open - to all accounts in the file.
You'll get a dialog box with four customizable options.
By default, TradeLog will have all options selected. This is how our application has adjusted wash sales for many years. However, if your specific manner of trading makes your situation different - then you can alter these options to get different wash sale results as required.

 Warning: You should not arbitrarily change these settings, doing so could make your tax results illegal. You should know what you are doing here!
We explain details about these settings and when and why a taxpayer may feel an adjustment is needed - Click here to get all those details.
Import from Excel Anytime
Even if your broker is supported by TradeLog, there may be occasional times you need to import trade history from an Excel/Text file. TradeLog 20 makes this easier - you no longer need to change your broker settings for the account. Simply go to the Account menu and choose the Import Trade History from Excel button.

We should tell you - this doesn't mean you can just select any old Excel or Txt file. You'll need to follow our instructions for the Excel/Text Import and properly format your data.
If your broker is supported (meaning we have an import filter for them), then using that import filter will usually have the best results.
What about Broker Connect?
You may be wondering when will BrokerConnect be fully functional again for E*TRADE, Fidelity, Schwab, and TradeStation? TradeLog 20 contains the framework for the totally redesigned BrokerConnect feature, which will be released in an upcoming update. Click here to see the latest updates on BrokerConnect.