Upon opening your TradeLog file, you may receive a Global Options error indicating that some trades are missing the "Type". Be sure to click OK to apply.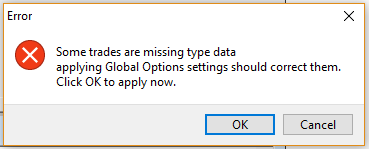 If the error persists, you will need to manually apply the fix. Here's how:
1) Click on Options, then select Global Options. 
2) The TradeLog Global Options dialog box will appear. Now click OK. This will force TradeLog to fix all types/multipliers in the file.