Upon opening your TradeLog file, you may receive a Global Options error indicating that some trades are missing the "Type". Be sure to click OK to apply.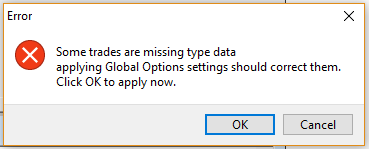 If the error persists, manually apply the fix:
1) From the User menu, click Trade Type Settings. 

2) The TradeLog Global Options dialog box will appear. Now click OK. This will force TradeLog to fix all types/multipliers in the file.