When attempting to End the Tax Year, you may receive this message: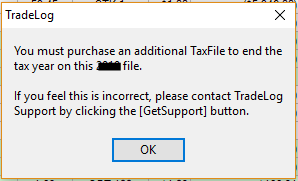 Keep in mind that each TradeLog subscription includes one File Key (formerly known as "TaxFile"), and each File Key handles one tax year and one taxpayer ID - see: File Key

If this message pops up, it means that there is already a File Key that is assigned to your current subscription.

To file your taxes for another tax year or another taxpayer ID, you will need an available File Key. Your subscription renewal will include another File Key that you can use. Additional File Keys can be purchased anytime, as long as you have an active subscription. Login to view your options and pricing.