On November 29, 2022 we changed our website and e-commerce system. Subscriptions purchased prior to that date are considered Legacy Subscriptions. Our new system will make future renewals easier, but you will need to follow some instructions this next renewal. Here is what you need to know...
Checking Your TradeLog Subscription Status
When you log in to My Account at TradeLog.com your subscription details will not be listed in the Subscription box. But don't panic! Your original subscription is valid through it's expiration date.
To find out your expiration date and subscription details, log in to the TradeLog application. Your product level and expiration date are shown on the Welcome screen, as shown below.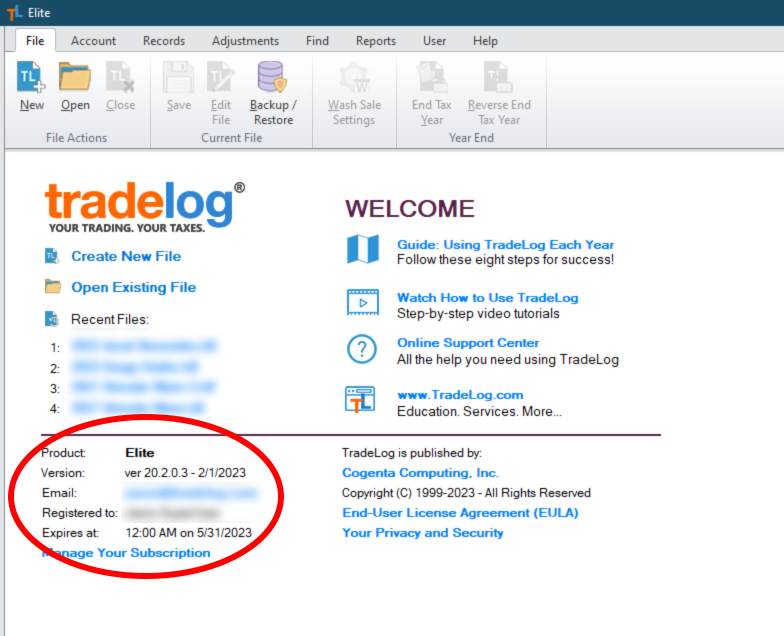 We'll send you several reminder emails as you get closer to your expiration date (unless you unsubscribed from our emails).
Need help with the login process? Click here for instructions.
Don't Renew Too Early
We recommend you renew on, or as close to, your expiration date as possible. The renewal subscription will expire one year after the date you renew - even if your original Legacy subscription expired later.

There will be no adjustment for remaining time on the legacy subscription, nor any credit or refund for unused days.
How to Renew - Follow These Steps for Best Results
Login to My Account at TradeLog.com.

VERY IMPORTANT: make sure to use the same email address of your original subscription, otherwise you will break the link with your Legacy Subscription. Do not create a new account!




Once you log in, click the Purchase button in the Subscription box.




Select the subscription level for your renewal by clicking the PURCHASE button for that level.




Enter your personal Coupon Code to receive your 20% off renewal discount (valid if renewing within 30 days of your subscription expiration), then click Apply - You'll find this code in the email reminders we send you.




IMPORTANT: enter the same email address you logged in with. If you need to change your email address you can contact us later.




Put in your payment details and click Pay.


Done! You'll receive a receipt by email. Next time you log in to the TradeLog application your new subscription details should be displayed.

When you now log in to My Account at TradeLog.com, your new subscription details will be listed in the Subscription section along with a link to manage your subscription in the future.
🎉 🥳 Congratulations, you successfully renewed your TradeLog subscription on our new system!
Need to change your email address or have other questions? Please contact Support, we're here to help.