Notes: Some users have experienced timeout problems when using BrokerConnect. You can try changing the timeout value to 120 seconds or greater to see if that helps.  But it has been our experience that IB sometimes cannot handle the requests and it times out. You can do the following:
- Try again at a later time (usually, that will work)
- Decrease your import date range to a few days or weeks, but no more than one month at a time
- Import from the web per our instructions below
Preliminary Procedure:
You must first activate the TradeLog Service for each IB account that you have.
The procedure varies depending on the account management interface you are using - "New" or "Classic":
Classic Account Management:
Log into the IB website and select Reports, Settings, Third-Party Services:




Next scroll down and click the 

Activate

 button in the 

TradeLog Service Status

 section:


Finally, write down the Token and Query ID numbers as shown below:


New Account Management:
Log into the IB website and select Settings, Account Settings. Under "Reporting", click on the settings wheel for "Third-Party Services":

        






In the "Configure Third-Party Services" screen, click on the DISABLED button in the 

TradeLog

section to enable the service:




Write down the Token and Query ID numbers.

NOTES:
You only have to activate each account once for all time.
You will enter these two numbers in the TradeLog BrokerConnect dialog as per the next set of instructions.
Once entered into TradeLog, these numbers will be saved in the encrypted file.
The Token and Query ID numbers may expire periodically. To renew, disable and re-enable the third-party service. This should provide you with updated numbers for use.
General Import Procedure:
1. Run TradeLog and click on the IB Imp button.

2. Select "BrokerConnect" and click OK.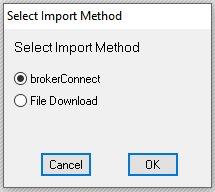 Note: If you do not see the "Select Import Method" pop-up, please click on Cancel, then change the default import method to "Select Each Time" - see: 
Modify Account and Broker Information
Repeat Step 1.
3. Enter your Token, and Query ID numbers in the popup dialog box.
Note: This information gets encrypted and is stored in your TradeLog data file. It needs to be entered once for each brokerage account and again after it expires and is renewed - see "Notes" under "Preliminary Procedure" described above.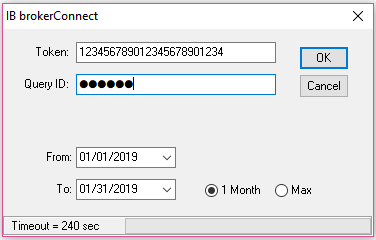 4. Confirm the Import date range:
The From date is the start date for this import. By default, this is the day after the last date in this account tab. Leave this date as is or edit it if you want to import a specific day.
To edit the date, enter it manually or select it from the drop-down calendar.
The To date is the end date for this import. You can use the default date or select your own end date for a custom date range import.
The To date must always be a Monday through Friday, so if you select a To date that is a Saturday or Sunday, TradeLog will revert back to Friday's date.
The default date range is the maximum this broker allows to import in one single download.
Select 1 Month to import one month at a time (recommended for IB).
Clicking on the Timeout button allows you to increase the time TradeLog will wait for a response. This may be necessary if you have a slow internet connection or large amounts of data.  You may also have to reduce the date range as well and import in smaller chunks.
5. Click OK. TradeLog will connect to the IB web site to get your most current trade information.
If you get an error, you can try importing only one month, one week or one day, then increase your date range. You may only be able to import one month at a time depending on IB's server capacity at the time of your import.
6. Your trades will be automatically imported and matched.