These instructions may assist if you are either installing TradeLog on a new computer (in place of a previous computer), or installing TradeLog on a second computer - such as a laptop. The TradeLog
End User License Agreement
authorizes your registration code to be used on up to two computers.
Important reminder about TradeLog data files:
your TradeLog data files are stored on your computer. In order to access those files on a new computer, or on a second computer, they will need to be moved or located in a location accessible to both computers. See the instructions for
Moving TradeLog Data Files
for more details.
Installation of TradeLog
Locate your most recent registration code (reg code) which will be required to download and install the software.
Your reg code can be found by opening TradeLog on your current computer. On the main welcome page you should see your reg code displayed as shown below.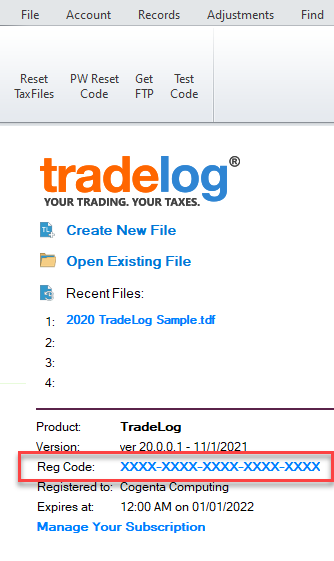 You can also locate your reg code by going to the Help menu in TradeLog, choose About and your code will be displayed in the dialog box that opens.

Your reg code can also be found on the invoice which was emailed to the email address you used when you last purchased or renewed.
Fill out the form, including your reg code, then click DOWNLOAD.
Run the setup file that is downloaded and follow the on screen instructions for installing. When TradeLog opens for the first time on the new computer it will prompt you to enter your reg code to register the software.


Once TradeLog is installed you are able to open data files and create new data files. However, you may need to move your data files created on a separate computer. See the instructions for Moving TradeLog Data Files.