The Welcome Screen is designed to make it easier to open and use TradeLog, as well as get needed help and support.
For each label below, scroll down to view details for that part of the Welcome Screen.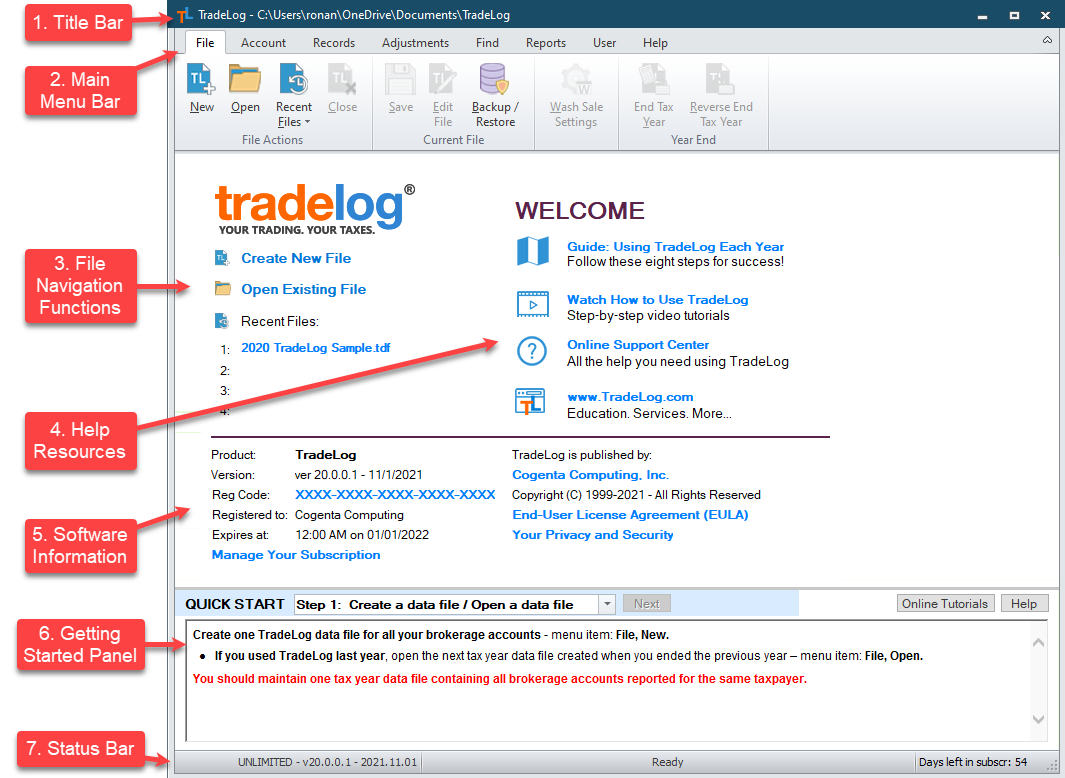 Title Bar

The Title Bar shows you the path of your data file location TradeLog will use on your hard drive (ex. C:\Users\ronan\OneDrive\Documents\TradeLog)

Main Menu Bar

Almost all of the functions outlined in the Comprehensive User Guide can be accessed by selecting the function from the appropriate Main Menu option.

File Navigation Functions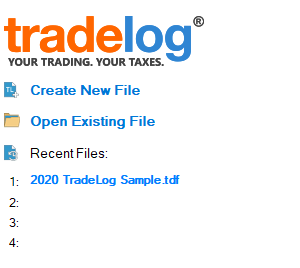 The File Navigation Functions allow users to quickly choose between:
Creating a new file



Opening an existing file



Reopening a recently used file

Help Resources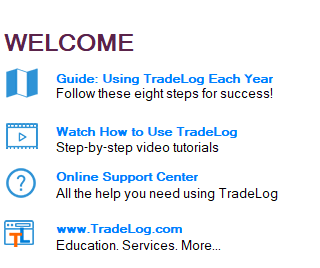 The Help Resources are direct links to important resources to help new and existing users. Some resources are located on the internet and will open in your internet browser.

Software Information

The Software Information section contains key information as a reference, as well as links to software functions including:
Click on Manage Your Subscription to go directly to www.tradelog.com and view renewal and upgrade options.



Click on Cogenta Computing, Inc. to learn about our company.



Click on the End-User License Agreement to read the software license agreement.

Getting Started Panel

NOTE: This has been temporarily disabled, while we work on revamping this functionality.
The Getting Started Panel puts the 8-step Getting Started Guide right at your fingertips, guiding users through TradeLog one step at a time with additional resources and help just a few clicks away.
The Getting Started Panel will provide suggested instructions based on your actions in TradeLog. Or you can manually choose your steps with the dropdown box. Click the links on the right for detailed instructions, tutorials, and further help.
The panel can be resized by dragging its top border up or down with your mouse. Or if you wish to disable this panel see the instructions here:
Display Getting Started Panel

Status Bar

The Status Bar is the bottom section of the main TradeLog window. This bar provides the following information (various status messages shown above):
Registration information - whether the subscription is fully registered, running in the trial mode, or your subscription has expired.



Number of days left in your current subscription.