To enter a date, simply type the date in the date field (using the format "mm/dd/yyyy") or click the down arrow to open the dropdown calendar and select the date with your mouse.
Dropdown calendar functions are available when adding trades manually and when filtering trades by
Date Range
.
Selecting a single date:
Click on a date to select a single date.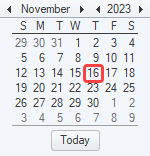 Changing the Month and Year:
Use the Left or Right arrow buttons to scroll the month

 -OR-

Click on the Month name and select from the drop down list.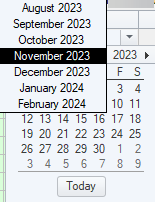 The dropdown calendar window will automatically close after a date has been selected.