Once the End Tax Year procedure has been performed, the File Key is locked for editing. TradeLog has an
Unlock/ Reverse
End Tax Year
procedure that performs the following functions:
1) Allows for a file to be unlocked for editing.
2) The DRAFT watermark will re-appear on reports.
3) MTM users and users trading futures have the option to retain year-end MTM prices.
Running the Unlock/ Reverse End Tax Year Function
From the

File menu

, click the

Reverse End Tax Year

button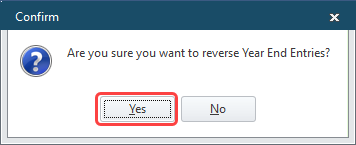 You can now make your edits.
NOTE:
If any edits have been made to the file, certain parts of the Year End Checklist must be completed again before File, End Tax Year can be re-run.
If you receive a warning that the Year End Checklist has not been completed, then
click here and follow instructions for each account.