BoA / Merrill Edge / Merrill Lynch Import Instructions:
General Procedure for importing from a downloaded CSV file:
1. Log in to your account on the Merrill Edge website and hold your mouse over Accounts. Under "Account Resources", click on Download Account Data: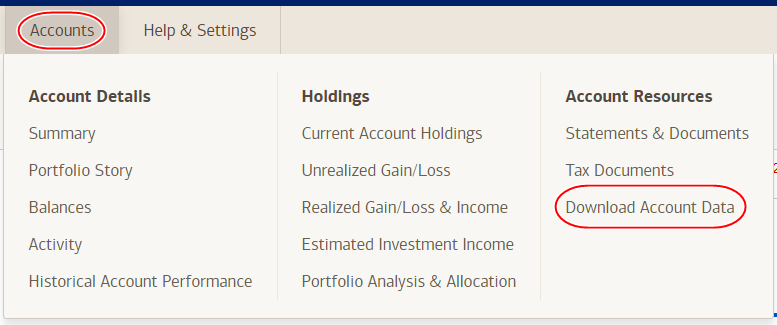 2. Under (1) Choose Category or Account - select your account.
3. Under (2) Choose Application select Spreadsheets and Text.
4. Under (3) Choose Settings select Activity
- under Activity Filters check Security Transactions and uncheck all the rest
- next to "Settlement dates" select "Custom Range"
- use the calendar dropdowns to select from and to dates:
5. Under (4) Download select Comma-Separated Spreadsheet (.CSV)
- click each Download button for a CSV file of 3 months of trade history at a time.
6. Save the CSV file to your "Documents/tradelog/import" folder.
7. Run TradeLog
8. Go to the Account tab at the top and click the from File button.
Your trades will now all be imported and properly matched.